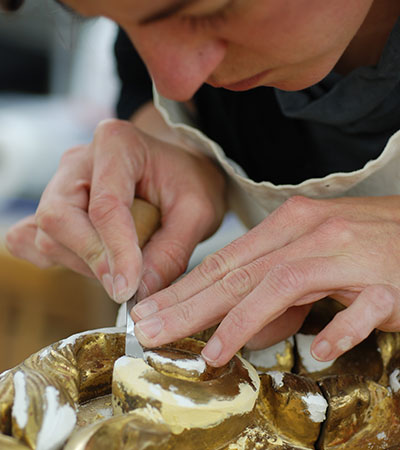 Harvard Art specializes in the conservation of gilded and painted surfaces, and has extensive experience with period picture frames. Treatments include structural repair, cleaning, stabilization of surfaces, replacement of missing pieces, gesso fills, ingilding with an appropriate karat gold leaf, toning to match existing finishes, and inpainting. All work conforms to the Code of Ethics and Standards of Practice of the American Institute for Conservation of Historic and Artistic Works.
Projects begin with an assessment. Often there are different levels of restoration and conservation to be considered by the client. Harvard Art performs a careful examination of the condition of each object or surface and then presents the appropriate treatment options to the client in the form of a treatment proposal, which includes estimated costs. The choice of treatment depends on many factors, including the condition of the artifact, its future use, and the client's budget. Upon completion, a Treatment Report is provided which includes before, during, and after photographs of the object and a written report describing the steps undertaken and the materials used.
Conservation services are provided at the firm's studio in Harvard, Massachusetts, where there is ample room for large projects, or at client sites.